rennsport revue // History Files. Exclusively by Carsten Krome – your sought-after solution. With a well-respected experience from 1976 onwards and a substantial database, netzwerkeins GmbH provides professional research and documentary services about collectible racing Porsche cars from RSR to 935 and from 956/962 to 911 Carrera Cup. Whatever your requirements are from a simple PDF-file to a complete book, there is a variety of options – as well as for former DTM-machinery.
Please note an example of former research projects about a 1977-spec factory Porsche 935 single turbo, chassis number #930 770 0907, with unseen material taken from the own stock. Apart from that, Carsten Krome helped private customers to build up their complete Porsche 935s just from spare parts, sometimes collected all over the globe. The Chassis number #930 670 0650 is another good example for this activity, which started back in the year of 1987 – the founding time of the media marque rennsport revue. Therefore, two more keywords have been added to the existing brand name, which leads to rennsport revue | #HistoryFiles. Exclusively by Carsten Krome Netzwerkeins.
Just get in contact by e-mail in case of any serious inquiry about historic value racing sports- and touringcars: netzwerkeins@web.de
carstenkrome@web.de
carstenkrome@web.de
Carsten Krome Netzwerkeins can handle that for you on a reasonable economical basis. Or just call: +49 (0) 173 16 81 541.
References – check out here:
Sieh dir diesen Beitrag auf Instagram an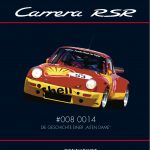 © rennsport revue // History Files: Porsche Carrera RSR #008 0014 – die Geschichte einer "alten Dame".
https://www.netzwerkeins.com/2018/12/01/die-geschichte-einer-alten-dame-von-carsten-krome/
werk1, Druckausgabe 001 | 2020: Kremer-Porsche 935 K3 – der 31 Chassisnummern umfassende Stammbaum des "Wunderautos" aus Köln.
https://www.netzwerkeins.com/2020/08/10/jetzt-in-werk1-ausgabe-001-2020-kremer-porsche-935-k3-der-31-chassisnummern-umfassende-stammbaum-des-wunderautos-aus-koeln/