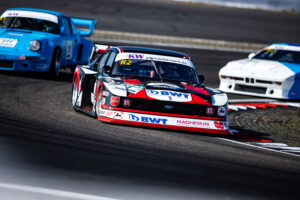 Der DTM Classic DRM Cup 2022 tritt in die finale Phase ein: nur noch eine Punktrunde auf dem regennassen Red Bull Ring bis zur Meisterschaftsentscheidung am Sonntagnachmittag um 16.10 Uhr – live kommentiert von Maren Braun, Carsten Krome … und Peter Mücke als Gast in der Kommentatorenkabine aka Com-Box.
DTM Classic DRM Cup, Red Bull Ring, Austria Final Track Notes after the second qualifying on sunday morning
#1 Stefan Mücke, Ford Zakspeed Capri turbo
By a margin of 6.226 seconds ahead of Michael Kammermann, Stefan Mücke took over from his father Peter Mücke and marked Pole Position in the now fully recovered Capri. A short check-up in the pitlane led to foggy screens in the inside, a concequence of the wet weather conditions.
#171 Erich Petrakovits, Ford Capri turbo
The home-built car of the domestic austrian entrant did not participate in second qualifying and was withdrawn from the event.
#60 Axel Hagemann, BMW M1
That entrant did not participate in the second qualifying either and was withdrawn from the event, too.
#24 Dirk Schumann, Alfa Romeo Montreal
After an engine failure yesterday in the early stages of the first race, that entrant had to be withdrawn from the event as well.
#6 Ronny Scheer, BMW M1
Third position in second qualifying for last year´s winner at the same occasion, same time, same place, who went into repeated trouble yesterday. First, the rear tyre on the right side expired in the first qualifying session. After that, a mistake in the fuel pump meant the abandon from the closing stages of the first race on saturday afternoon.
#241 Hans-Ulrich Kainzinger, Porsche 911 S/T
After changing cars in order to avoid an engine failure on the bright green Porsche Carrera RSR, the second placed entrant in the actual driver´s standings switched over to the spare car, a 1971-spec. Porsche 911 S/T. The 2.5-litre lightweight car was not on rain tires in the wet second qualifying, but on road-eligible Michelin "TB 5" instead. These tires pointed out to be not that fast, so the experienced Porsche racer missed the qualification limit – an issue, which has to be discussed in the meantime, until the sixth and final race of this year´s series will be started.
#14 Anton Werner, Audi Coupé Quattro
First outing for the rare and four-wheel-driven development version of the forthcoming Group-B-rallycar under wet conditions. The 360-bhp-five-cylinder-engine with a single turbocharger is working without larger trouble, so the racing Audi collector is looking forward.
#42 Max Kainzinger, Porsche 914/6 GT
The 23-years-old (or young) son of Hans-Ulrich Kainzinger bears an advantage in comparision to his father: He es using the only set of pure-bred raintires in the team, which led to the 16th position in the overall classification in second qualifying. Within the family team operation, a decision was made to let him use the better and faster tires in the wet, even if they would be fitting to Hans-Ulrich Kainzingers Porsche 911 S/T as well.
#311 Edgar Salewsky, Porsche Carrera RSR
Quite a surprise, that the well-respected race technician and engine specialist points out to be quite a fast racedriver as well: sixth position in second qualifying for the Aachen-born German, who runs his company in Eupen, Belgium, near the famous track of Spa-Francorchamps.
#63 Peter Schumann, BMW 635 Group 5
Just one week after the victory at the 1.000-kilometres-race at the Nürburgring long circuit, the car points out to be revised and set for the track in Styria. The rear axle ratio had to be changed for the shorter track, the car is still running reliable and fast as well. Even a short mishap in the gravel trap could not stop Peter Schumann, who took over from his brother Jürgen Schumann after the first race on saturday.
NEUE EVENT-PLAYLIST auf Carsten Krome Netzwerkeins @youtube: DTM Classic DRM Cup 2022 – das Finale auf dem Red Bull Ring/A.
Responsible for the content: netzwerkeins GmbH; Carsten Krome
Photography: Pitwall Media, Farid Wagner
DTM Classic DRM Cup 2022 auf dem Red Bull Ring in Spielberg/A: Peter Mücke der erste Champion, erster Saisonsieg für Michael Kammermann.
Veröffentlicht am: 26. Sep. 2022
https://www.netzwerkeins.com/2022/09/26/dtm-classic-drm-cup-2022-auf-dem-red-bull-ring-in-spielberg-a-peter-muecke-der-erste-champion-erster-saisonsieg-fuer-michael-kammermann/
Erst Feuer, dann Champagner: Routinier Peter Mücke siegt im Samstagsrennen des DTM Classic DRM Cups auf dem Red Bull Ring.
Veröffentlicht am: 25. Sep. 2022
https://www.netzwerkeins.com/2022/09/24/erst-feuer-dann-champagner-routinier-peter-muecke-siegt-im-samstagsrennen-des-dtm-classic-drm-cups-auf-dem-red-bull-ring/