Jetzt im Re-Live: DTM Classic Cup – Deutsche Rennsport-Meisterschaft – Nürburgring – zweites Qualifying, 28. Aug. 2022.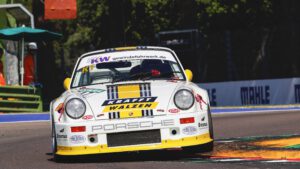 Erleben Sie 21 hochkarätige Rennsport-Klassiker gleich sieben verschiedener Marken auf dem Eifelkurs, live kommentiert von Carsten Krome. Dauer der Sendung: 28.10 Minuten.
Jetzt einschalten und vorher noch schnell die >>> Track Notes <<< , nach dem Sonntagstraining frisch aufgezeichnet, in englischer Sprache lesen:
DTM Classic DRM Cup Nürburgring, 26th of August,2022: Track Notes after the qualifying session on sunday morning.
# 32 Oliver Steinmetz, Opel Commodore GS 3.000
The racing son of former Opel enhancement expert Klaus Steinmetz came in on 20th position with the 1971-spec. Opel Commodore, which is symbolical for the initital season of the legendary Deutsche Rennsport-Meisterschaf. Back in 1973, the original family racecar onve entered by Klaus Steinmetz was rolled at at hillclimb race, rebuilt and brought back into the public in the year of 1993. Since then, Oliver Steinmetz is keeping the history alive with a newly-revised, six-cylindre-in-line engine with less than 300 bhp and three carburettors.

# 69 Georg Griesemann, Porsche Carrera RSR 3.6
Due to a broken crankshaft in the flax-six-engine, the car had to be withdrawn after the qualifying session on sunday morning.

# 42 Max Kainzinger, Porsche 914/6 GT M491
Due to technical on the left cylindre bench and o broken bolt, one of the two youngest drivers in the starting grid had to be withdrawn as well after qualifying.

# 33 Heiko Budzinsky, Chevy Corvette C3 Sting Ray
Historic Racer Heiko Budzinsky enters the grid on 16th spot today, assisted by the highly experienced Derichs-crew under the lead of chief mechanic Frank Depta. He stated some economical tyre choices: "We do not get new tyres in the size and specification that we need. As a matter of fact, we are using older material, which is not on the precisely right performance level – and we are taking chances."

# 60 Andreas Diring, BMW M1 M88/Group 4 Procar
Surprisingly fast on seventh spot in qualifying on sundas morning, Andreas Diring took over from care owner Axel Hagemann of Bünde, who is a reworking expert for this very special type of racecar, built back in 1979.

# 311 Nick Salewsky, Porsche Carrera RSR 3.6 Group 5
Aloingside Max Kainzinger, 23-years-old Nick Salewsky is the youngest racedriver around, setting the fastest Porsche-related qualifying time ahead of former DTM-participant Otto Rensing, who took over from Michael Hess in the Krafft-Walzen-derivative.

# 933 Ingo Pütz, Porsche Carrera RSR 3.8 Group 5/IMSA
After third place in saturday evening´s race, Ingo Pütz withdrew his newly revised Porsche-racecar without having any mechanical trouble. "We are doing a testing session for the 1.000-kilometres-race at the Nürburgring long circuit in three weeks time, so yesterdays has been more or less a preparation run. We do not want to take any risks and keep the car, which is rented out to customer drivers in three weeks time, in one piece. So we leave it this way for today."

# 50 Marco Wagner
A loose left rear wheel and no sufficient tyre temperatures for the mystery undercover project in the grid, once brought into being by Swiss Walter Brun 40 years ago in the wake of the 1982-season. The second race today will the another collection of the very first kilometres on a racetrack for the 800-bhp-strong group-5-version.
Responsible for the content: netzwerkeins GmbH, Carsten Krome