Four Porsche 911 GT3 Cup (generation 991), all campaigned under the same championship winning entrant's banner, did not only conquer the international one-make-racing-scenery with Porsche. They also did secure a maybe eternal world record. After five of six possible championship victories in total, the 'Magic Four' should not be divided again. Experts predict a strong potential as a collectors item – if only they stick together as they are! Carsten Krome Netzwerkeins reports about an unseen phenomenon.
Four Porsche 911 GT3 Carrera Cup (generation 991), five championship winning titles within only one short season of motorsports: that's an unseen phenomenon in nearly 30 years of one-racing with Porsche cars, starting back in 1986 with the innovative 944 turbo Cup. For Hans Bernd Kamps and Jörg Michaelis, both founders and CEOs of the all-conquering entrant Project 1 by Deutsche Post as well, this most likely eternal world record is the reason for a quite revolutionary strategy: They both strongly believe, that their magic four championship winning cars, all painted in the same yellow by the Porsche factory, should not be sold item by item, but exclusively given away as a unique collection in just one package. Their statement sounds quite simple: "As a racing entrant, winning together is our strategy. Like in any other sporting discipline, you never should change a winning team. We follow the same idea about cars – our four cars, all entered by our team Project 1 by Deutsche Post. We are absolutely convinced, that they should not be divided, they should stick together as one exclusive collectible package!"
Actually, the investment in pre-used racing Porsches with a significant and well-documentated history is more popular than ever, market prices are still rising, and an end of this crazy development is totally out of sight due to economical circumstances. Very especially, the request on pre-used cars out the one-make-racing series with Porsche cars like the Carrera Cup M 001 (generation 964, modell years from 1990 to 1994) did rise from the economical crisis from 2008 onwards and reached higher pricing levels year after year. In the meantime, it's as difficult to acquire a well-approved Carrera Cup car as to acquire one of the famous "Entenbürzel"-RS 2.7 coupés. "We predict, that our four Porsche 911 GT3 Cup (generation 991) will reach the same well-respected level", states Hans Bernd Kamps, "this is a logical consequence out of the market phenomena not only visible to us, but commonly known."
Kamps proves his point with the report about some kind of a somehow scientific test back in summer 2015, when he started searching for a stepstone of his very own palmarés as a racing driver in the Porsche Supercup and the national Carrera Cup Deutschland back in 1992 as well, when he ordered a totally new chassis in the Porsche factory. "I closely recall the substantial amount of money spent on my own car, that campaigned both the 1992 and 1993 season as well", reports the 59-years-old. "Personally, I firstly did not expect my former warhorse to be found somewhere and confirmed by specialists out there only three weeks after having started. Secondly, I was more than astonished about the requested amount of money nowadays – much more than I had to pay when it was freshly delivered from the Porsche factory. To me, it is obvious that our 991-type-machines will be worth much more than the official price Porsche received when our 'Magic Four' had been delivered."
The sporting success story has been written by five young challengers like Austria's Philipp Eng, 2014 the reigning champion in the national Porsche Carrera Cup Deutschland. Just one year after that first breaktrough, the 25-years-old dominated both the german national series as well as the international Supercup in the frame of the Formula One Grands Prix. In his slipstream, teammates Alex Toril, Sean Johnston, Matteo Cairoli and Nico Menzel did secure one significant success story for every single of the magic four chassis numbers. "Maybe some day, these young guns will be well-established in the hall of fame of one-make-racing with Porsche cars, like Frank Stippler, Frank Schmickler, Klaus Graf – or even late Sean Edwards. They all competed for us from 1993 on, when we invented our race team operation, starting under the banner of Tolimit motorsports then", adds Jörg Michaelis, partnering since 23 years already. "Therefore, we always kept the championship winning Porsche 911 GT3 Cup (generation 996), which was driven to overall victory by Christian Menzel back in 2005. Basically, that one stands as a symbol for the now passing era of the long-serving 'Mezger-engine', once invented by the famous Porsche engineer Hans Mezger.
Another aspect in the collection of legendary benchmarks is provided by Project 1's sponsors like Deutsche Post, Sony or Roma. Their colour schemes should be as commonly known like former winning combinations including the Jägermeister-, Martini-, Blaupunkt- or Rothmans-Porsches as well. So, as a consequence, everything is set for a longtime-existance of the 'Magic Four' as a maybe once in a lifetime chapter in the 30-years-long lasting history of one-make-racing – a chance not to be missed!
Words by Carsten Krome Netzwerkeins
Please also consider: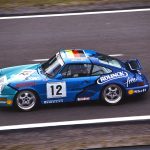 desperately seeking … #TO OO1 [1993 Porsche Carrera Cup M001, type 964]
http://www.netzwerkeins.com/2018/06/06/desperately-seeking-to-001-1993-porsche-carrera-cup-m001-type-964/