Mit einer Fabelzeit von 1:45,00 Minuten versetzte der 24-Stunden-Rennprofi und Referenzpilot Nico Bastian (29, Stuttgart) die Fachwelt auf dem Hockenheimring in Erstaunen. Mit dem durch [a-workx] speziell konfigurierten Porsche 911 GT3 RS (Generation 991.2) umrundete der gebürtige Heidelberger das badische Motodrom volle zwei Sekunden schneller als erwartet. Auf straßentauglichem Reifenmaterial ließ er Slick-bereifte, reinrassige GT4-Rennsportwagen hinter sich.
Die Schlagzeilen:
Reife(n)-Prüfung: Die neue R-Generation von Michelin erweist sich auch ohne eine gezielte Setup-Anpassung als überaus schnell. Sie erlaubt eine Rennsport-nahe Performance auf Rennstrecken wie dem Hockenheimring.
Starkes Gesamtpaket: Der neue, durch [a-workx] speziell konfigurierte Porsche 911 GT3 RS der Generation 991.2 wird durch gezielte Eingriffe an Rädern, Fahrwerk und Abgassystem zum hochgradig effektiven Tracktool.
Wissensvorsprung: Der Entwicklungsschwerpunkt lag auf Fahrdynamik – Erfahrungswerte aus dem Porsche Sports Cup konnten vom 911 GT3 Cup auf den GT3 RS der Modellgeneration 991.2 verlustfrei übertragen werden.
https://www.a-workx.com/news/aktuelle-news/14500-minuten-neue-fabelzeit.html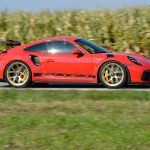 English version:
1: 45.00 minutes: new fabulous laptime at the Hockenheimring for the [a-workx] Porsche 911 GT3 RS.
https://www.netzwerkeins.com/2018/10/09/1-45-00-minutes-new-fabulous-laptime-at-the-hockenheimring-for-the-a-workx-porsche-911-gt3-rs/