Our friend and network affiliate Steffan Irmler went online with a new website the last weekend. We are pleased to have contributed to the content and will publish our contributions dedicated to him directly to http://www.irmler-racing.de in the future time.
Here is a (halfway) current tasting:
On Wednesday afternoon, Steffan Irmler and his loyal fellow travelers left the team base in Drebber in their direction towards Great Britain for the fourth time this year. This time their trip leads the (sea) route to the county of Cheshire in northwest England. The traditional HSCC Gold Cup on Oulton Park's 4.32-kilometer circuit is all about the multi-aspected history of motorsport on the island. And so – not for the very first time – it comes to meet the british touring car racing legend John Cleland. The now 67-year-old controls like the 17 years younger Irmler an Opel Vectra after the two-liter Supertourer regulations. Fans of the Dunlop Saloon Car Cup are sure on both sides of the english channel: this will be the crowning match to conclude a compact season that includes four race dates only!
Responsible for the content: Carsten Krome Netzwerkeins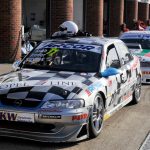 Like to read more? Gladly, here:
http://www.irmler-racing.de/aktuelles/dunlop-saloon-car-cup-2019-oulton-park-gold-cup-preliminary-report-english/