chaude couture – nine | eleven boxerstories
1996er Porsche 911 (993) Carrera VarioRam Cabriolet APC: die (Stein)Graue Eminenz.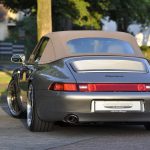 Right between the Eyes reloaded
Chaude Couture von der Rudolf-Wissel-Straße: Wer die Porsche-Welt kennt, weiß diesen Hinweis auf die Universitätsstadt Göttingen einzuordnen – ja, natürlich: Nordöstlich von Kassel widmen sich Thomas Nater und seine 21 Teammitglieder mobiler Individualität, stets basierend auf dem Sportwagen schlechthin. Mit dem technischen Großaufwand von Restaurationsbetrieben verwirklichen die Niedersachsen Auto-Träume ihrer Kunden. Im Trend liegen nicht nur Rennsport-affine Aufbauten, sondern in gleichem Maße auch von kundiger Hand gefertigte 911 Carrera Cabriolets. Sie verbinden die Anmut und Eleganz des Offenfahrens mit der Präzision leistungsstarker Coupés. Mit plusminus 300 PS und einem "ultra-deep"-Rennsport-Fahrwerk. Am Paderborner Heinz Nixdorf MuseumsForum kam es einmal mehr zum Stelldichein mit einer Porsche-Preziose im Gegenwert von plusminus 120.000 Euro. Außerdem war es quasi die Neuauflage eines Fotoshooting-Klassikers aus dem Jahr 2003. Carsten Krome, damals wie heute an Ort und Stelle, berichtet.
(to be continued)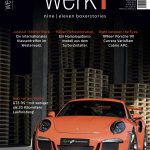 Weiterlesen? Sehr gerne – in werk1 #001 nine | eleven boxerstories.
Im Zeitschriftenhandel ab Freitag, 9. August 2019. Bestellen Sie Ihre persönliche Ausgabe ganz bequem online: https://www.carsten-krome.de
Außerdem könnte Sie das interessieren: 
Hoch lebe der (Cup-)Sport! 1991er Porsche 911 Carrera Cup APC, #WPO ZZZ 96 ZMS 40 9002 (Typ 964).
https://www.netzwerkeins.com/2019/07/01/hoch-lebe-der-cup-sport-1991er-porsche-911-964-carrera-cup-apc-wpo-zzz-96-zms-40-9002/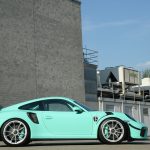 #LifesBetterWithCameras. Wir kennen uns doch!? Update des 2016er Porsche 911 GT3 RS (Typ 991.1) APC.
https://www.netzwerkeins.com/2018/08/10/lifesbetterwithcameras-wir-kennen-uns-doch-update-des-2016er-porsche-911-gt3-rs-typ-991-1-apc/